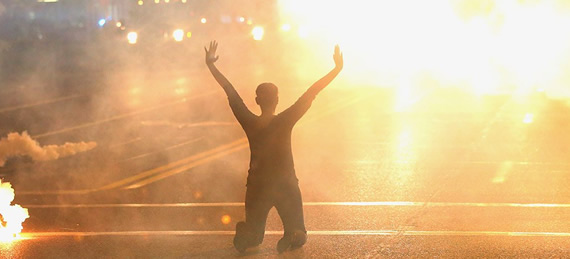 As someone who was born, raised and still currently resides in St. Louis, MO, I've been watching the scenes in Ferguson (a suburb of St. Louis County) unfold these past few days with both heartache and outrage. Heartache for the people whose dreams have been affected by the violence in the streets and outrage for the people whose dreams have been affected by the verdict on Monday night.
From the beginning, when this case presented itself on local and then national television screens and social media feeds, it was never just about the events that led to the death of Michael Brown at the hands of police officer Darren Wilson. This case was the proverbial "straw that broke the camel's back." Funny phrase, that is. If it were to literally come true, can you imagine what might take place if you were the camel's caretaker? The camel collapses, and you start retracing your steps into the immediate past to reveal what you think is the cause of the problem. You would form an opinion based on your look into the past about what it was that made the camel collapse. You might say to yourself, "Next time, I won't put that last straw on the camel's back."
But then you'd be missing the point entirely, wouldn't you? It wasn't the last straw that broke the camel's back. It was the collective amount of weight you required the camel to carry for a long period of time that made it appear as though the camel collapsed under the final added weight of that tiny straw. It wasn't the tiny moment in time that produced the final outcome, it was the collective moments of time that added up to produce the broken camel. The straw was the cause, but the weight over time was the source.
And that, my friends, is why we are collectively missing the point when it comes to Ferguson. We are pointing our fingers at the shooting of Michael Brown (the cause) while failing to see the history of objectification and marginalization that preceded this event (the source). And if we want to see any real change take place from this moment of crisis, then we absolutely must look at the real sources of the problems and not just at the immediate causes.
President John F. Kennedy, in his convocation of the United Negro College Fund in Indianpolis, IN on April 12, 1959 said, "When written in Chinese the word crisis is composed of two characters. One represents danger, and the other represents opportunity."
So, let's explore the dangerous opportunity in front of us by looking at 3 huge sources of the Ferguson response and how we can help things move in the forward direction that we all desire.