3 Big Lies
WOMEN

Have Been Told The Bible Teaches That Rob Them Of Their

FUTURE

And Keep Them Feeling
Like They're Never

ENOUGH
In this complimentary seminar, you will learn:
the ancient Scriptural secrets that have been hidden from women for centuries
why women are God's crowning achievement, not second-best
the power that has been placed within women to change the world!
Watch as Jeremy talks about the unrealistic expectations we place on women:
Details:
When: Thursday, April 17, 2014 from 7:00-8:30pm
Where: Embassy Suites St. Louis-St. Charles/Hotel & Spa, Two Convention Center Plaza, St. Charles,  MO 63303
There is no cost to attend but seating is limited!
Don't Delay…Register Today!
LADIES

, don't miss this life-changing opportunity to empower your future
with

FREEDOM

and

FULFILLMENT

!
"This message was chain-breaking for me personally. I was encouraged, inspired, and motivated! It left me praying to God and saying, "What do you have for me that I was to afraid to try before?" Society has defined a huge part of who I am as a woman today. The world, and even the church has told me who I am, and what my role is. At times, even scripture has been twisted to keep women in chains. This teaching will leave you feeling like a spiritual "William Wallace" shouting "FREEDOM!" I felt fear melting off of me, and thoughts that have bothered me my whole life were being challenged. That inner unrest inside my soul after years of discontentment was awakened, I am more than an omelette-making, vacuuming, diaper-changing mom and wife. And I love that I do those things well. But that place in my heart that longs for more, will be settled as I live out my calling without fear. We are unique and incredible creatures, and this teaching expounds on that. I was pleasantly surprised and blessed by Jeremy's message."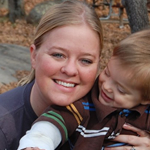 -Sarah Favazza, M.A.
Professional Counselor and Stay-At-Home Mother
Can't make the date?

Sign up for email notifications so that you don't miss our next one!

Share this page with your friends!