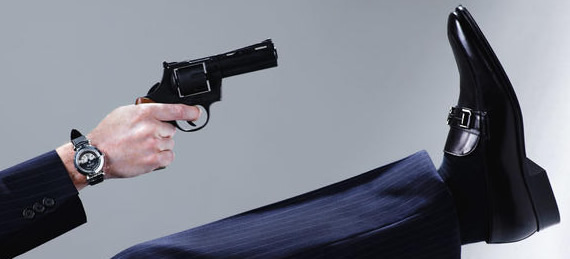 Sometimes it feels like we are destined to fail. We achieve something great only to have life bring us down. We take 2 steps forward and 1 step back. Things are really going well in our lives and then the bottom drops out. It feels familiar to us and unfair all at the same time. We know something's wrong, but what could it be?
Have you ever felt this way? If you have, then you may be subconsciously sabotaging your success. I know, I know…Why would anyone deliberately destroy something they worked so hard for? Why would anyone want to become the cause of their own failure? Well, the simple answer is…no one would! And yet many of us find ourselves stuck in the cycle of self-sabotage without realizing that it is ourselves that have created our own circumstances.
Maybe you've been in a relationship where your partner treats you better than you've ever experienced and then, all of a sudden, you feel a reason to distrust them. Maybe you got a promotion at work and then, all of a sudden, you're extremely unhappy. Maybe you reached a goal that you've always wanted and then, suddenly, you feel sick.
After my recent book release, I found myself in a miserable place. I had just accomplished a significant goal in my life and business but I wasn't happy. In fact, I felt discouraged, powerless, and unsuccessful. Why? Why had a new height in my personal success story been followed by a new low?
The truth is, none of us are immune to self-sabotaging behaviors. And if we want to be truly successful in our lives and businesses then we'll need some tools in our kit to help us break the cycle of these negative and limiting behaviors.
Here are 5 ways to stop sabotaging your success and start living life without limits. 
1) Raise Your Awareness
Awareness is key if you want to be free of the cycle of self-sabotage. When I first began to feel a "funk" setting in after I published my book I immediately made myself pay attention. Why? Because, like a frequency dial on a radio, your brain needs to be tuned into the right station to hear the message clearly. I had just accomplished a goal that 81% of adults say they want to achieve but fewer than 1% ever do! My feelings didn't make any sense. So, that was a clue for me to train my awareness on the feelings that didn't make logical sense in my moment. With my heightened sense of awareness I was able to transcend the feelings and log when things didn't add up for me.
Raise your awareness by focusing on the feelings that don't make sense in your situation.
2) Ask Better Questions
Usually, when we find ourselves in a self-sabotaging place like the one I've been describing to you we tend to ask questions of ourselves like: "Why is this happening to me?" and "Why does it have to go this way?" and "When do I get to feel loved (successful, fulfilled, etc.) like other people I know?" Now, are these questions incorrect? No. But are they focusing you on what you have power over or what you feel powerless to control?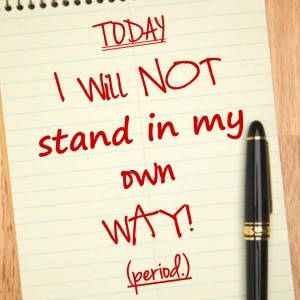 After you raise your awareness, it's time to ask better questions. Here are a few that lead you to the source of your self-sabotage: I've felt this feeling before (name places, events, circumstances from your past) what does this moment have in common with those? What is my earliest remembrance of having this feeling and what were the circumstances surrounding it? What are the ways that these feelings have limited me? What have these feelings cost me?
When you ask better quality questions you'll get better quality answers that will lead you to the source of your self-sabotage.
3) Identify The Pattern
Our lives are made up of a series of patterns. Patterns of behavior reflect patterns of emotion which stem from patterns of thought that echo the sources of information. When we're locked into a self-sabotaging cycle it can sometimes be difficult to see our own patterns. So, this is a step that you might need some outside help with but that's not to say that it's impossible to identify them on your own.
In my case, my probing questions led me to a moment long-passed moment in my life when I was only 6 years old and experienced the debilitating loss of my "Grandpa" Nick. He wasn't actually my grandpa, but my next-door neighbor who treated me much like a grandson. I had a deep affection for him and really enjoyed his company. When he passed suddenly and unexpectedly I didn't know what to do with all that pain. What happens when we don't know how to process or deal with the pain of what's happening in our lives? We find ways to avoid that pain, distract us from that pain, and gain pleasure instead of pain. For me, food was an awesome distraction that made me feel better. From the pictures of my childhood and the stories I received from my mom, I gained 27 pounds in the year following the death of Nick and became generally despondent – so much so, that my 1st Grade teacher asked for a meeting with my parents to ask them, "What have you done with my kid?"
I was first awakened to this story a couple of years ago, when I was searching for the true source of my struggles with weight, but had never seen how this story also affected my view of success and locked me into a cycle of self-sabotage until my coach pointed it out to me recently. It seems that my 6-year-old self made the connection that when things are really going great then I should expect life to suddenly change for the worse and leave me with a loss. As I grew older, I began to expect that to happen, and life answered me affirmatively. As time went on and life solidified my expectation, I began to avoid going for great things or making big goals because I wanted to avoid the inevitable. I hadn't realized it, but what my 6-year-old self decided to believe in order to insulate me from the pain of a loss I couldn't comprehend was still subconsciously driving my self-sabotaging behaviors in the present.
When you identify the patterns that have been colluding to create the self-sabotaging behaviors in your life, then you can make the conscious decision to break free from their limits.
4) Get Emotional
I wrote in Your Best Is Next:
"At the core of our psychology there are really only two major motivating factors — pain and pleasure. When we associate a massive amount of pain with an activity that we're currently doing then we'll take action to stop it, because we want to stop that pain. When we associate a massive amount of pleasure with an activity that we are currently doing then we'll keep going, because we want the pleasure to continue. If there's one thing I hoped you've learned from me so far in this book, it's that you always have a choice. Pain is a thought, just like pleasure is a thought. How we perceive a situation to be or imagine an activity to benefit or hinder us determines the amount of pain or pleasure we attach to what's happening."
While identifying the pattern in and of itself is a breakthrough moment, it doesn't end the cycle of self-sabotage. Now, we've got to get real with the habits of emotion that have led to those patterns of behavior and kept us stuck in avoidance of the actions we know we need to take.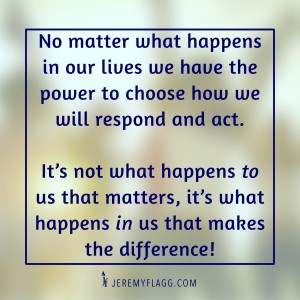 For me, I know the action I've been avoiding is to start embracing my greatness and stop minimizing my gift and limiting my audience. But now I've got to get real about the emotional habits that have kept me stuck here. Here are the questions I'm using to breakthrough and would encourage you to ask yourself as well: What is the pain that you associate with this action that's kept you from following through in the past? What are all the ways you've received pleasure by not following through? What will it cost you if you don't change this right now? What will you gain by taking this action right now?
One of my coaching mentors, Tony Robbins, said, "The secret of success is learning how to use pain and pleasure instead of having pain and pleasure use you. If you do that, you're in control of your life. If you don't, life controls you."
Get emotional and change your associations of pain and pleasure so that you can really be free of the sources of your self-sabotaging behaviors once and for all.
5) Exercise Your Personal Power
Finally, all we need to do to stop sabotaging our success is exercise our personal power. What is our personal power? It's the thing inside of all of us that no one has the ability to take away — the power of choice. No matter what happens in our lives we have the power to choose how we will respond and act. It's not what happens to us that matters, it's what happens in us that makes the difference!
Exercise your personal power by making a decision to stay aware of your patterns, interrupt them with positive action when they show up, and realize that it's you who is in control of your future.
Question: What is one action you know you need to take but have been avoiding? What will you gain from taking action right now? You can leave a comment by clicking here.
LIKE THIS POST?
Sign up for my email updates and never miss another one.
I'll even send you a FREE EBOOK as a thank-you :-)