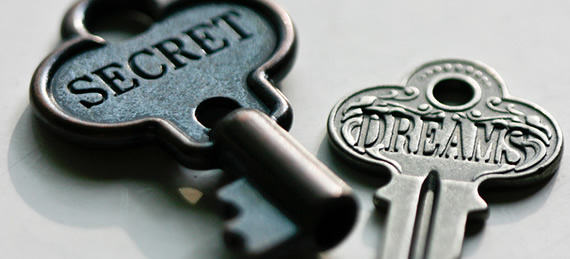 We're already one week into our new year and, according to the University of Scranton's Journal of Clinical Psychology, of the estimated 62% of Americans that possibly made a resolution to keep this year 25% of those have already given up.
Now, a large part of their lack of success comes from the general fuzziness of their resolutions. "I want to lose weight," is not nearly a specific enough target to hit. I mean, by December 31st would you be happy if you'd lost one pound? If so, then bravo! You've hit your mark! But for most of us, that number is likely to cause us to feel defeated because it's not exactly what we were aiming for.
But even if we're not completely specific and we don't have the best goal-setting skills on the planet we can still be successful if we're mindful of this one simple secret.
To Fail Is To Live
A teacher once told inventor Thomas Edison when he was in grade school that he was, "too stupid to learn anything," and that, "he should go into a field where he might succeed by virtue of his pleasant personality." What would have happened if he'd listened?
Entertainer and comedienne Lucille Ball was dismissed from drama school early in the pursuit of her dream with a note that read, "She's wasting her time. She's too shy to put her best foot forward." What if she had allowed their judgment of her abilities to limit her?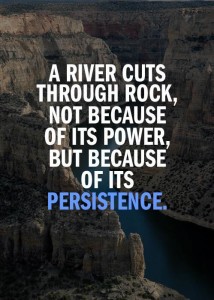 Before he ran for election as President of the United States, Abraham Lincoln lived through the death of his fiancée, the failure of two businesses, a nervous breakdown, and the political defeat of eight elections. If at any time he'd decided that his dream of being a successful leader wasn't worth pursuing, what might have happened to the nation?
When we're pursuing the path of our dreams, failure is inevitable. Because the truth is, to fail is to live. There's not one person that has ever stepped into their greatness on the first try.
When I was growing up I had the great pleasure of watching the basketball mastery of Michael Jordan on display in his glorious time with the Chicago Bulls. He seemed to always make the right moves and be in the right place at the right time. Watching him play then we didn't know that he had once been cut from his high school basketball team. We didn't know that he cried to himself in his room after he didn't make the team and almost gave up on basketball altogether. When asked about his success as an NBA legend, he responded, "I've missed more than 9000 shots in my career. I've lost almost 300 games. 26 times I've been trusted to take the game winning shot and missed. I've failed over and over and over again in my life. And that is why I succeed."
Never Give In
If you want to succeed at making this year your best yet and you have a vision in your mind for what you want to achieve, then what's the simple secret you need to remember?
Be Persistent.
In Og Mandino's seminal work, "The Greatest Salesman In The World," where timeless treasures of personal development are being handed down from a mentor to a successor via written scrolls, one scroll gives the mantra you'll need to remember if you want to become great in life – I will persist until I succeed.
In addition to the stories that you just read, history is full of similar ones and they all have one simple behavior in common – persistence.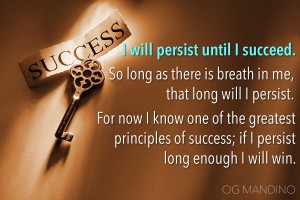 This year instead of giving up because the going gets tough (and it evidently does in this first full week), resolve to persist until. Until you've hit your target. Until you've made your mark. Until you've stepped into your greatness.
Don't allow another moment to pass you by simply because you experienced a little opposition or resistance. The truth is, without resistance you'll never know how strong you are. You'll never find out that you've been given the strength of spirit to persist in the face of any opposition and succeed against any and all odds.
The secret to your success in 2015 was so eloquently delivered by Winston Churchill in the face of life-threatening opposition to Great Britain in World War II when he said, "Never give in – never, never, never, never, in nothing great or small, large or petty, never give in except to convictions of honor and good sense."
Say it once, say it a thousand times — I will persist until I succeed. And when you say it, you will have made known to yourself what so many others have found to be the secret to lasting success.
Question: What goal are you unwilling to give up on this year? Declare your persistence! I'd love the opportunity to cheer you on. You can leave a comment by clicking here.
LIKE THIS POST?
Sign up for my email updates and never miss another one.
I'll even send you a FREE EBOOK as a thank-you :-)