Blame is the oldest game that people play. If there is one thing that seems to keep us stuck in our stories and hold us back from achieving our dreams it has to be blame.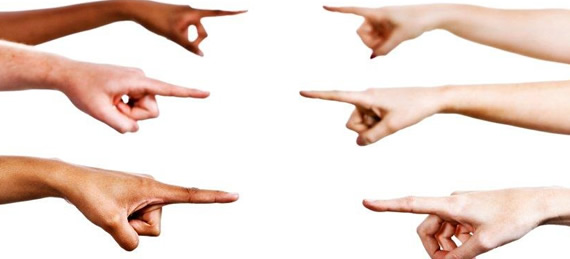 Every time we play the blame game, we are focusing on what we cannot control instead of tapping into our personal power. In the end, if we want to grow into our greatness we absolutely must get beyond blame.
Helping people accomplish their goals as a coach has afforded me the opportunity to see this blame game play out in many different ways. Of course, it has also given me the ability to see the major patterns of how people play it.
So, here are the 3 most identifiable patterns of blame that I've seen in people's lives (and, of course, my own) and how to get beyond them. 
Blaming The Circumstances
The first and most easily identifiable way that we play the blame game is when we point to the conditions in our lives as the justification for the predicament we're in.
For example, I'm writing this blog post for you on the last leg of my trip home from Seattle, WA on my second plane. Now, before I grabbed my laptop to start typing, my mind starting sounding off with things like, "You don't need to do this now – you're on a plane!" and "There's barely any room to type while you're on this thing…you should just wait until you get home." and "This article can wait, your community will understand…"
Sound familiar? When the circumstances don't lend themselves to our idea of "perfect conditions" then it's easy to make them the reason that we didn't get things done.
What did I do to conquer this feeling? I made a conscious decision to take action on what I knew was my own responsibility. And you know what? As soon as I started typing, all those thoughts just disappeared.
What do you need to take action on today that you've been putting off by blaming the circumstances?
Blaming Other People
The second pattern that's easy to see in our lives when we're playing the blame game is when we point fingers at other people in our lives as the justification for why we aren't where we want to be in life.
The other day I was talking with a woman who asked me for advice about her relationship with her daughter's teacher that was causing her pain because of the way her daughter was being treated in the classroom. She began to tell me what she believed to be the problem with phrases like, "The teacher just makes me feel…" and "If she didn't talk to me that way, then…" and "That's not how a teacher is supposed to act." What happens when we engage in this type of language? We give our power away to the person that we perceive is causing us all the trouble.
In our daily lives, this happens in a multitude of ways. We blame our parents for not raising us a certain way. We blame our siblings for not showing us love in the way we wanted to receive it. We blame our spouses for not giving us the love and support that we deserve. We blame our children for not giving us the time we need to move forward. We blame our bosses for not giving us what we need to succeed at work. We blame our co-workers for not helping us meet that deadline.
On and on it goes until we stop the madness and activate the power of personal responsibility. It is only through the eyes of personal responsibility that we let go of the need for everyone else to be "right" and focus on the only person's behavior we can control – ourselves.
What do you need to take personal responsibility for today that you've been blaming on someone else?
Blaming Yourself
The last and presumably most difficult way we play the blame game is when we blame ourselves for what we don't have or do with our lives. This one gets tricky because it disguises itself as personal responsibility, but it's really a form of self-pity that keeps some of us stuck for decades.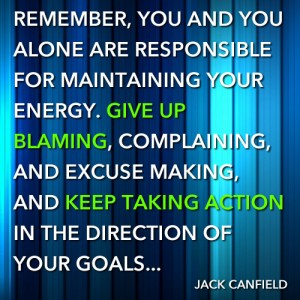 For instance, I once coached a woman who was recently divorced for the second time but really wanted to move on with her life and find a love that would last. The problem was, every time I would talk to her about what happened with her former relationships she would say things like, "I know I'm the problem…" and "I'm no saint, I wasn't easy to live with…" and "It was all my fault. I drove them away."
Now, that sounds like personal responsibility, right? Well, not exactly. There's a big difference between taking responsibility for what you've done and taking on the identity of what you've done. Responsibility sounds like, "I made a mistake." But blaming yourself sounds like, "I am a mistake." Hear the difference? Once we adopt the identity of the troublemaker it can be difficult to see any situation where we won't screw it up.
So what do we do if we find ourselves in this pattern of blame? Go and serve someone. The best remedy to a life resigned to being "the problem" is to go be "the solution" for someone else.
In fact, I recommended that the woman I was coaching go find a women's shelter and serve once a week for a month before we talked again. And you know what happened? She completely transformed her mindset and began to really live again! She stopped blaming herself and started to see the strength and beauty that she brought to the world.
How can you serve someone today so that you can break through your pattern of self-pity?
Your turn…
Question: What are some of the most bizarre blame games you've heard someone play in your life? Were you able to help them get beyond it or did they stay stuck? I know you've heard some doozies! You can leave a comment by clicking here.
LIKE THIS POST?
Sign up for my email updates and never miss another one.
I'll even send you a FREE EBOOK as a thank-you :-)