Recently, I woke up from a dream where I was hiking up the side of a rock (think Colorado) and then came to the top where I was enjoying the scenery and taking pictures of the beautiful landscape. When I turned around to go back down, I discovered that I couldn't find the path that I had taken to get there.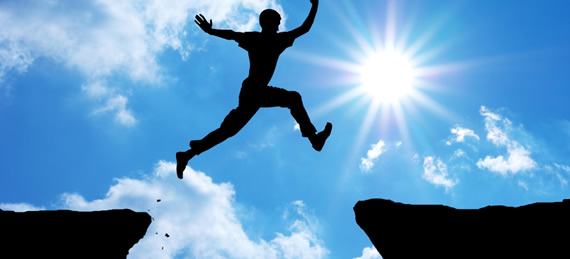 Panicked, I started to come up with other solutions. While I was frustrating myself looking for a way back down to where I had come from, I felt that I should look beyond my situation for the answer. As I stood on the edge of the rock's cliff, I saw another rock's ledge about 10 feet away. I knew then that the only way to move on from this moment was to jump. Scared and troubled as to why things had to be this way, I woke up. 
Have you ever felt this way? You've been climbing and enjoying the view of your vision for your life and then suddenly you realize that you're going to have to take a leap of faith in order to accomplish it. It's scary, for sure. But it's also energizing! It's the opportunity to graduate from where you are to where you want to be.
There's a great quote by a woman named Barbara J. Winters that says, "Faith is knowing when you get to the edge of everything you've ever known that you will either learn to fly or land on something soft." I want to encourage you today to MAKE THE JUMP! Stop settling for second best and start living the life you deserve. After all, you were born to fly :-)
By the way, I made the jump…I took the leap.
What about you?
Question: Have you ever felt like you were standing in a moment where you knew you couldn't go back to where you'd come from because you didn't belong there anymore, but you were afraid to take the leap of faith into your unknown future? You can leave a comment by clicking here.
LIKE THIS POST?
Sign up for my email updates and never miss another one.
I'll even send you a FREE EBOOK as a thank-you :-)